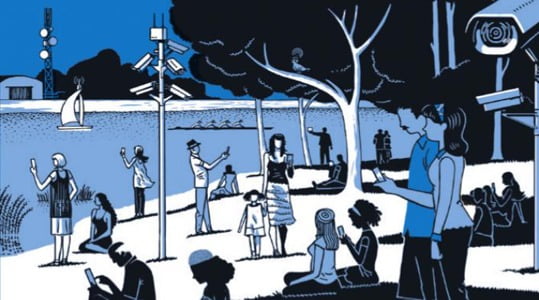 On April 5th, one could light-heartedly read in the pages of the regime newspaper kathimerini:
Kaushik Basu, an economics professor at Cornell university and a former "world bank" chief economist from 2012 to 2016: "…We know from older studies that pandemics damage trust among people and this may, in turn, negatively affect development, even after their decline. I also believe that Covid-19 will accelerate automation and digitalization…".
Niko Efstathiou, journalist (google news lab fellow in 2015, and an accredited journalist covering two annual meetings of the world economic forum):
"…Democracies are also participating in the temporary withdrawal of civil liberties and rights. Within the framework of the restrictive measures, south korea created an electronic warning system that maps the possible routes of the [confirmed] cases based on the gps data of their devices, their credit card transactions and analyses from camera surveillance footage. After an emblematic court battle, israel approved the expansion of spy and counterterrorism technology to coronavirus patients, letting the protection authorities have access to the location and certain data of their phones…"
"…europe is considered the global protective shield of privacy –[and] by extension reactions have been more balanced, though they were equally unprecedented. "Data protection rules (such as gdpr [general data protection regulation]) do not hinder measures taken in the fight against the coronavirus pandemic," stated Andrea Jelinek, the chair of the european data protection board, highlighting, though, that even in such exceptional times the authorities must ensure the protection of personal character data and the lawful processing of data at any given time. The official e.u. statement also noted that each respective emergency legislation must be enacted under the condition that it constitutes a "necessary and proportionate measure," while it stressed that if such practices are established each member-state shall be obliged to implement sufficient safeguards, such as granting citizens the right of appeal [t.n.: more specifically, "the right to object and the right to complain to a competent authority"]…".
Have you calmed down now? There will be a "right of appeal" in this [kind of] participatory surveillance…
Did we say how we got there? Because of the element of surprise, psychological warfare and an immediate, military-style, advance! Not just a "blitzkrieg", but the most lightning-fast war ever! -but not against Covid-19…
So, how did this happen? Just remember:
A virus which is actually not a highly lethal one (but with tough and deadly cousins…) first appeared in a chinese province at the end of December 2019; because it was new, unknown and from a notorious family (and also because fingers promptly pointed at the chinese regime as a "danger to global health"), Beijing mobilized all its medical and repressive means;
when the naughty virus reaches european soil, first in italy, it was now known as a "wimp", but a number of mistakes, inadequacies and oversights, as well as the previous anti-sinist campaign as an ideological dowry of the west, legitimize the much-desired (in the west) reproduction of the "chinese example," especially the aspects of its surveillance and repression;
at the same time, the controlled media and the castes of "experts" (also controlled…) ruthlessly exaggerate the virus, presenting it like being the "Doomsday Virus", unless… the "unless scenario" swiftly and aggressively takes shape into a gendarmerization of the "crisis management" by using the legitimizing "argument" of saying: "let's save our -inadequate!- health care systems";
martial law (of various degrees) is declared in a number of "democracies" for "urgent reasons", including the digital mapping of their regimes' subjects (let's say through the online application/approval or rejection of a house-prison exit permit);
but this "urgent reason" has been devised for this practical purpose, with monstrous lies, half-truths and total distortions: reality instantly becomes virtual;
all these stem from and converge on a basic orderly "ontological reversal": the dogma (gradually refined and currently reaching a peak) is now that we, either as individuals or as larger or smaller groups, are not even capable of even protecting ourselves; so a combination of state, "scientific" and technological paternalism is needed to keep us on the right track;
therefore, a kind of "moderating" physical repression will come as "liberation", in exchange of compulsory compliance with the requirements of data collection and generalization of the algorithmic prison, as demanded by the "health" of the 4th industrial revolution;
for, our (earlier) "free agency" will not be returned! It is not permitted for us to know even how to breathe -literally and metaphorically…Now what we need is guidance, control, and, of course, "machine mediation/support" both outside from and inside our homes (it is called the "internet of things"…);
…but don't worry… if you have any objections, do "APPEAL, FILE A COMPLAINT"!!! (Don't insist much, though: they will denounce you as a "socially irresponsible" person and a "sick" puppy…).
All kinds of disciplined soldiers are requested to endorse (from their barracks, preferably their digital ones… so that recording could be possible…).