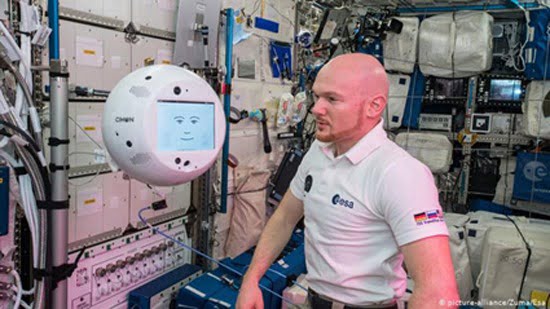 As for its looks, the german designed and IBM programmed CIMON-2 (the smiley plastic balloon on the left) does not claim any prizes. Though, it has a rich emotional (and rational) world. There is a thing you need to remember: even with robots, appearances can be deceiving…
The "Crew Interactive Mobile Companion-2", as its whole name is, is a "smart" companion and assistant robot -for the astronauts of the International Space Station (ISS). It is "endowed" with emotion algorithms (of imitating/mechanizing emotions). For, apart from its cooperation with human beings that in orbit around planet earth for technical issues, for the next 3 years, it has also undertaken a particularly difficult task: to prevent what "experts" call "group think". In greek, this is called "kleisoura" ("κλεισούρα"), that is, being in an enclosed space with stale air, and this is what can happen when a small group of people is isolated and together continuously: there are great chances that they will start making irrational decisions or being at each others' throats (so to speak) for no good reason.
We do not really know what CIMON-2 would exactly do in this kind of situation. It is supposed to be programed to "behave" like a human-like impartial, external observer; something like "I just got here. What's going on?" It is also suitable for having lonely conversations [with it] (such kind are somewhere, somehow possible even at the ISS…) and for functioning as a "[robo-]mediator" so that squabbles can be resolved on the space station.
Could it avoid being thrown out from an emergency porthole in the heat of the moment? Maybe not. But if so, this being its fate, CIMON-3 would be a less ball-shaped model and have an extra pair of strong, robotic arms…