Something tell us (not "something", but many things tell us!) that when from this marginal corner of cyberspace we insist that the supposedly killer covid-19 virus is the alibi for and flag of violent reconstruction of social relations (of the social factory), the violent and fast acceleration of machine mediation (engineering of everything), and the assault of neostatism, we are seen as being out of this world. There are plenty of derogatory characterizations in a dictionary that could be easily thrown at us, from "conspiracist" to "they don't have a clue". We just don't give a hoot… however, if what is written here is of any importance, this is not related to philosophy. If urgent refusals (worker refusals) are not politically reinforced, it will soon be all doom and gloom for all of us.
You may, probably, remember that one of the newest "hygienic practices" (for "people's health" and not "overwhelming the health system", as always mentioned!) was and remains what is internationally called (in english) as contact tracking. What does it mean? It is about the research conducted on with whom a covid-19 "positive case" came in contact retroactively for the recent two weeks…
Does this seem normal? Yes, this is where the "average social awareness" has come to (and this is where all the political jackals of "social liberation" are): to be considered normal the mapping of the social relations of anybody… How on earth (as a friend of the quarantine would say in indignation) the spread of such a deadly virus will stop if those that (may be) contracted the virus from the x person found "positive" are not detected? Yeah, right… right… (Think if it was something even more serious…)
If until the end of 2019 a police officer or an interrogator (the only ones authorized to make such questions…) asked only when someone who was charged with anything anywhere in the planet, like "Come on, tell us who you the last 14 days", it was more likely that they would receive a kind of answer, like from "And what do you care about?" to "I don't remember". At the end of April 2020, the following took place (which anyone with minimum conscious would call them, the least, scary):
– There is no need of any cop or interrogator…
– There is no need of any kind of questioning/interrogation…
– It is totally reasonable, socially legitimized, mandatory for each person to give a total account for their social relations, so long as they are identified as covid-19 positive…
All the good information industries around the world, working side-by-side with the states, have created digital "applications" (apps) which in different ways (either through "mobile" or "wearable" devices) do this job ("contact tracking") for anyone, non-stop, 24 hours a day, 7 days a week, transferring the data to databases for their algorithmic processing.
All these, from a state perspective of mass surveillance and a capitalist perspective of massive embezzlement of "personal data", would be a wild dream until December 31 2019, after April 30 2020 they have not only become a reality, not only been socially legitimized, but also been something more than that: they now are socially desirable! And, of course, the have paved not just a road, but a super-wide highway…
What would people say up to four months ago "this is my life and I don't gotta answer your question", today the exact opposite is happening! It is not a miracle of biopolitics. How come this miracle happened? Where, in other circumstances, there would be a long-running, "hand-to-hand", war would be waged between states and corporations, on one side, and social dignity, on the other, passionately defending individual freedoms and privacy rights, it has turned out to be enough [for this outcome] a microscopic coronavirus and a paranoid hygeinistic horror campaign of only a few weeks!!! (What also helped was the inexcusable political short-sightedness of all the relics of the 20th century…)
As a hygienist Madeleine Albright would say: All this terror, is worth the price!!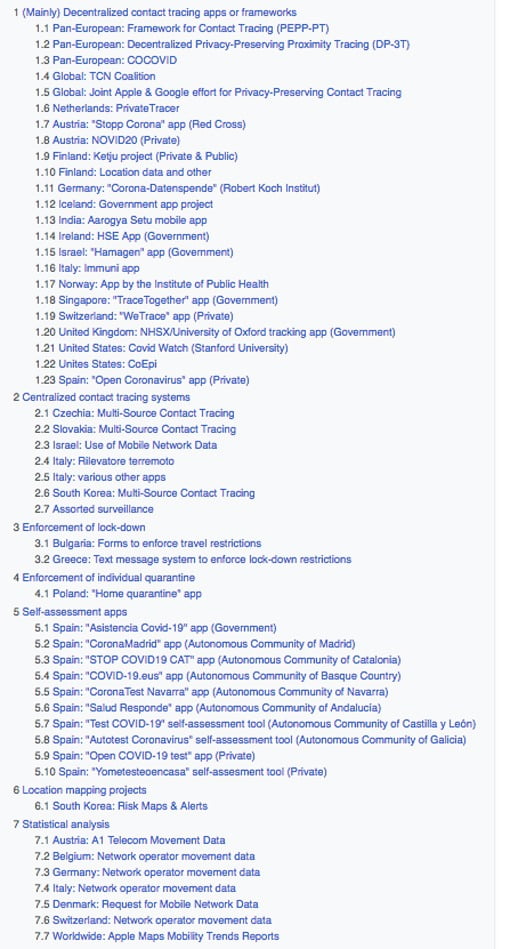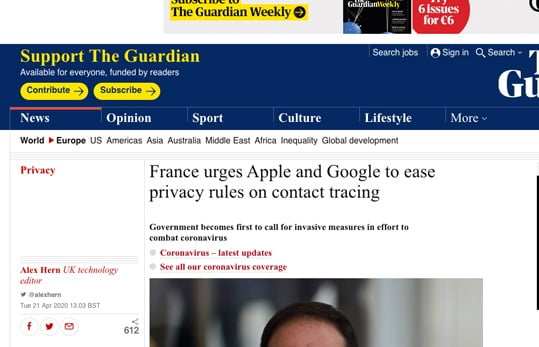 You will be surprised if you learn how many tracking applications have been "developed" in real place and time simultaneously and put into practice throughout the developed capitalist north, within the short time needed for the miracle to happen! The above chart with the more than 30 cases is informative.
But this is not the end of the story. First, this is because what is given in return for the "liberation" from a repressive total ban (as many on the planet note an 18th-century style of biopolitics) is an affirmative answer, an approval, a consent to much more (that is, social!) tracking. And second, this is due to the fact that no any kind of conspiracy took place in this both marvelous and instant coordination of so many states, so much state distress for public health, so many tech companies -and so many blind subjects [and not free-thinking citizens]…
No! Things have reached maturity… A 21st-century-style biopolitical control and biopolitical surveillance have sprang from the pestilence of hygienistic fear (that made the largest segment of first-world societies eat up the fabricated shock and awe of covid-19), the same way as Athena did from Zeus' head!
Maybe an insignificant fact, but still a characteristic one: even before the subjects realized to what kind of mutilation [of their rights] they consented (for "health's" and "state schemes'" sake, always!!!) at the beginning of the coup d'états, the rabble-rousing demagogues sowed and the subjects reaped and reproduced the phrase: after that the world will be different… What did they understand as a coming "difference"? Nothing!… They just repeated somebody's words… They repeated them to train themselves not only to their anticipated submissiveness, but also to the desire of a "different world"!…
To the extent that there is a certain concern created (in germany for sure) about will happen with all this data, the states flex their muscles and stand up against corporations… And they do so to personally guarantee everything: "the respect for human rights"… "the respect for citizens' privacy"… "the non-commercial use of this huge volumes of data"…
That's a joke! The ones who know give a meaningful nod. Even state management (always, alas, with the meaning of various "official healthcare organizations"…) is poisonous; and not to take into account all the overt and covert (in any case documented, especially in the post-Snowden era) relationships between "state" and "private" apparatuses…
The are even states (the french one is leading the way!) that request the giants of the information industry, such as apple and google, to relax the barriers to data-privacy invasion by integrating it into their much-sought after common application for tracking! In this way, private corporations will be able to acquire a 'halo' of defending individual liberties and rights!!!
As mentioned in an article published yesterday on Wired.co.uk by Matt Burges (WIRED's deputy digital editor), where he describes how he predicts this "[new] normal 2.0":
"When you're in the supermarket queue in January 2021 – socially distanced from those around you by two metres – and the phone in your pocket buzzes with a notification from the contact tracing app you installed six months ago, the routine will be familiar. After all, you have been through the process multiple times already.
Someone you crossed paths with last week – the app doesn't tell you who – has tested positive for coronavirus. It tells you to go home straight away. You must self-isolate until a test has been completed. The test, as with those before it, was automatically ordered from a public health centre as soon as notification was sent to your phone."
We can't ever forget that: as happens with each eruption of totalitarianism, this technological fascism (we 're sorry, but we couldn't find milder words) is glossed over with warm applauses. Some (who are they?) threw the "idea" for home prisoners to get out on their balconies, at a given time each evening, and applaud the "heroes on the frontlines"…
And the prisoners fell for it… but damned if they understand anything! And yet it always happens so: the masses think that they applaud "something else"… And they always hate anyone who proves that they put their head on the butcher's block…
So yes, the unstoppable machine, Sarajevo, Cyborg and the "council for workers' autonomy" take their responsibilities.
What about the so many friends of quarantine?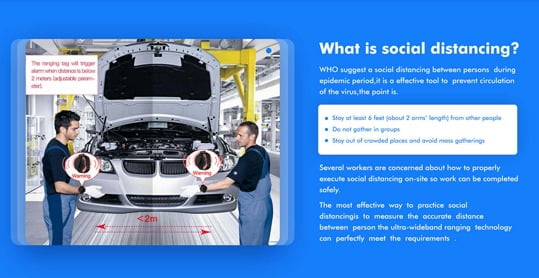 Certainly, it is not only the (total) social factory that overwhelmingly comes under internet surveillance so that western capitalisms can narrow the "effectiveness/efficiency" gap with the chinese paradigm and its social credit system. They are also the typical work places/time.
But this was not what the wage-earners asked for, all that time, under the wise guidance either of their petty bourgeoisism or of their unions: Didn't they ask for safety measures to be taken to avoid contracting the virus? Oh well, look! Here they are!!!
(They will neither contract the virus nor also whisper any "negative thoughts" about the job, the boss, the supervisor, or his snitches!)
We never celebrate in May 1st… But this year is for heavy mourning!