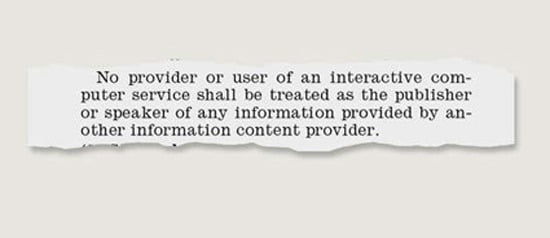 Twenty-six words in an article of a 1996 u.s. law allowed the internet to be what we know it to be; and in "content publishing" giants like google, facebook and twitter to gain the monopoly position they have over a large part of the world.
Under that law, which concerned telecommunications in general, internet companies are exempt from any legal liability for content circulating through their servers. They are considered service providers (of the exchange of contents between their users), the same as a postal service provider: it is not responsible for the content of letters, parcels, etc.
Based on that article, what is called internet neutrality was legally established. Everyone can say what they want, and they are the ones who have all the legal responsibility for what they say, the images and the videos they post, etc. But this neutrality is coming to an end: content control has begun to become a routine, not only by states but also by provider companies. The argument is to deal with false news…
Recently, the american president signed a law that changes the status of companies, considering them content announcers, such as the traditional media (newspapers, channels, radio stations, etc.). In this case, each medium has legal / criminal responsibility for what is included in its content, in addition to the responsibility of the one who put it.
While it is possible that there will be legal / judicial controversy over this issue, it has become clear that company owners are also seeking "something" that will absolve them from "freedom" and "neutrality" – without, however, losing their customers. Being scared and careful will suffice…
"States of emergency" are wonderful opportunities for new disciplinings…