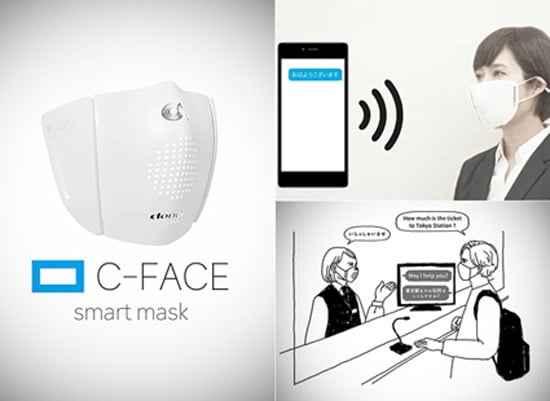 Do you have troubles hearing what they tell you, behind the masks? Do you need to repeat what you say because they can't hear you? Do you feel like you speak another language? The smart mask of the japanese startup company Donut Robotics is the solution! Designed to fit over a protective (non) medical mask – since it has no protection against coronaviruses or other infectious risks – it can become your personal "smart" megaphone!
The company developed the software to use it in airport passenger information robots, but when the pandemic occurred, the project froze, and the company's engineers thought of using it differently – and c-face smart mask was born. The first round of crowdfunding raised $ 265,000 in 37 minutes, while the second, which was for the international distribution of the mask, raised $ 539,000. The first 5,000 to 10,000 pieces are expected to be released in japan in December, and internationally, at the earliest, in April 2021. The cost will range from $ 40 to $ 50, plus extra charges for the app's services.
So, in addition to increasing the volume of speech and the corresponding volume button (will it also have a mute option? It's not specified!), the wonderful gadget translates from Japanese into eight different languages. It essentially "listens" to the speech, transfers it to the mobile, and the software does the translation, which is presented in text on the screen.
It is an idea that should not remain stagnant. The "smarter" masks should talk to each other on their own. If for the sake of public health, house arrest for life is a good idea (of the state), let the masks themselves take responsibility for sociability…