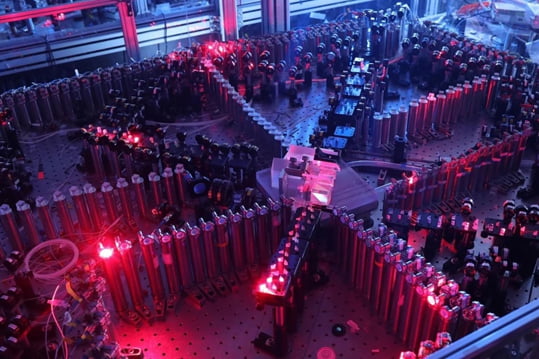 The technological warfare (war of technological supremacy) continues with undiminished intensity… And it's not just the playful adventure of human thought lying on the counter.
Neither we nor you (the majority, at least!) are ready for the next technological revolution that is already taking shape. We are not talking about the 4th – which will also be out of our imagination. We are talking about the 5th, the quantum!!
What we know (or think we know) and what we understand (or think…) in terms of physics have nothing to do with quantum physics and its applications. And if current applications already inspire metaphysical "faith" in the technosciences, the advent of those of quantum physics (which will not take long as you think…) will come very close to the perfect separation between the "average human" species and its machines; perhaps in the almost perfect expropriation of the living by the dead capital. Unless a good part of our class immediately and timely studies… (Which at present seems almost impossible: to explain that mRNA constructs work through mutations in human cells we have to… let it go to hell!!!)
One of the key features of research for the applications of quantum physics is quantum computers (as well as the corresponding encryption). Last year google (yes, a private u.s company) announced that it had achieved "quantum superiority" (over any competitor) by building and running a 53-qubit quantum processor (just keep in mind that these are quantum bits); that is, it managed to do a calculation (which the fastest existing supercomputer would take 10,000 years to complete) in just 200 seconds… Two hundred seconds instead of ten thousand years is not a trivial fact, is it? Even the local bureaucracy would be staggered!
On December 3 this year, it was the turn of chinese techno-capital to respond. In a technoscientific report in the well-known science review, a team of physicists Pan Jianwei and Lu Chaoyang from Hefei University announced that their own original quantum computer took 200 seconds to calculate what the fastest existing supercomputer would need over 2 billion years to reach its end. Here one runs out of breath even by thinking of such a comparison!
The unstoppable machine declares her inability to figure out who on this flaming stone called earth devises "calculations" that without quantum computers take 10,000 or 2 billion years to be done; while with them a little more than 3 minutes of the earthly hour is enough… She does, however, understand the general idea. If, for example, the "health data" (including the DNA) of 8 billion passengers on the planet and their ancestors up to 2 generations ago would need to be processed in order to find (?? what?) a quantum computer in full operation would need some fractions of a second…
In two words, quantum computing (apart from the interesting gifts of quantum physics as such and the incredible properties of matter it studies and highlights…) seems to be an immediate capitalist necessity for many uses. Including military. Which means that the quantum supremacy recently announced by Beijing is not of the type "NBA is the top basketball league in the world" or "the Great Wall is visible from space".
Don't wonder what such issues have to do here since we don't understand shit! We will have to understand, but in the meantime this is enough: while westerners are trying to repel the 5G telecommunications supremacy of chinese capitalism, 6G telecommunications (research has begun…) will be quantum!
So? Firstly, let's not hear the well-known nonsense about viruses that feed on electromagnetism… And secondly, let's have a general idea of the reasons why a second or third best in intra-capitalist competition would like to destroy the first…
(As for the rest, we are marginal, so we have more margins… And after all no one chooses the era one lives…)