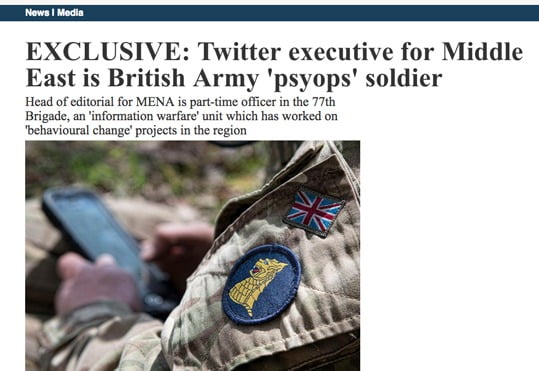 … The senior Twitter executive with editorial responsibility for the Middle East is also a part-time officer in the British Army's psychological warfare unit.
Gordon MacMillan, who joined the social media company's UK office six years ago, has for several years also served with the 77th Brigade, a unit formed in 2015 to develop "non-lethal" ways of waging war.
The 77th Brigade uses social media platforms such as Twitter, Instagram and Facebook, as well as podcasts, data analysis and audience research to conduct what the head of the UK military, General Nick Carter, describes as "information warfare".
Carter says the 77th Brigade is giving the British military "the capability to compete in the war of narratives at the tactical level" and to shape perceptions of conflict. Some soldiers who have served with the unit say they have been engaged in operations intended to change the behaviour of target audiences…
The british lion may run out of toilet paper; but not of militarism! The unification of state agencies and private enterprises is the definition of fascism – this was stated by the person in charge, known as Mussolini. But, obviously, the ears (or fingers) of the users do not sweat.
Should they perhaps turn to dark poetry, since they do not understand what is happening to their detriment? How nice my love that we tweet in the minefield! Let's also go along the road to the cemetery!…