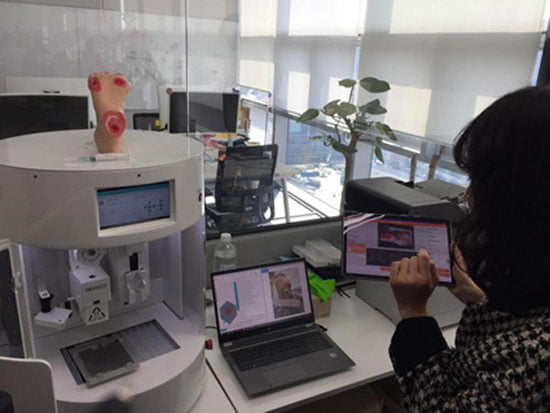 Every 1 to 2 seconds, somewhere on the planet, a diabetic will get an ulcer somewhere on the tip of his or her feet. Half of these ulcers become infected within three days at most. Infection eats the flesh. Gangrene…
Equally effective is the medical treatment of such conditions: amputation. It is estimated that a mutilation of this kind occurs every minute – all over the planet.
So the invention of the South Korean medicine startup ROKIT Healthcare is really radical. The wound is first scanned, which can be done remotely. Then liposuction must be done from a healthy part of the body, and this fat (its cells) is used to make "bio-ink". Then, using this "bio-ink" a bio-printer makes tissue to cover the ulcer. Within one to two months, this healthy tissue grows and "fills" the wound site, without the need for surgery or medication, as the new tissue is from the body's own cells and is therefore not discarded. The "pasting" procedure takes only half an hour, a minimum time compared to the usual surgical treatment. So far, 300 operations of this kind have been performed, and they were 100% successful.
This is indeed a socially useful technology! And the prospect is to extend not only to muscle tissue but to others as well. It is already used to repair cartilage of the knee, while liver repair tests are in an experimental stage…